Where will "The Great Steverino" be performing at Easter, 2018?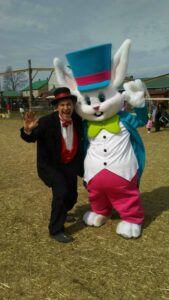 Join us for EASTERFEST AT DOWNEY'S FARM IN BRAMPTON!!!!
The Great Steverino met the Easter Bunny last Easter and they both would like to see you at Downey's over the next two weekends.
So, come on out on Saturday, March 24th and Sunday March 25th and again the following weekend: Easter weekend – Good Friday, March 30th, Saturday March 31st, and on Easter Sunday April 1st , 2018.
Steve "The Great Steverino" Baker will be performing 3 different Easter Themed Family Magic Shows each day at 11:30 a.m., 1:30 p.m., 3:30 p.m!
Come to Downey's Farm for a celebration that will have you hopping for joy! Check out the baby animals, collect eggs in the Easter Egg Scramble, and enjoy many crafts, games, and of course Steverino's 3 totally different Magic Shows for the whole family.
Check it out at www.downeysfarm.com!