Where will Baker Magic Shows be performing this Holiday Season?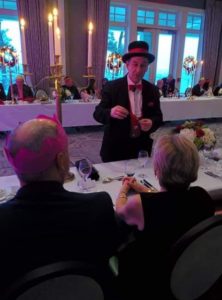 This Holiday Season all of my shows were private functions such as Company Christmas Parties or Family Get togethers for the Holidays.
Here are two of my favourite photos from this year's festivities.
The first photo is strolling magic performed right at the tables, with children of all ages as my assistants. After everyone had enjoyed the festive meal, there was a 45 minute Christmas family interactive show. I am so happy to have been invited back for the 18th year (the first time I performed for this company was 1998 and none of the children in this photo were even born)I always look forward to performing my magic for this continually growing company and joining them to celebrate the Holidays.
This second photo is strolling magic during the meal for a large family of adults and their spouses or significant others, which was followed by my 45 minute Holiday interactive show for adults. This was my first time entertaining this wonderful group and I hope I'll see them again next season.
And I'd love to come to your family or company Holiday Party next year. It's never too early to book Christmastime Parties. I am already booked for 2 already!
Happy Holidays!!!