Where can you see Baker Magic Shows this Easter, 2019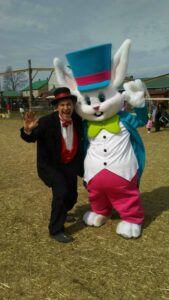 EASTERFEST AT DOWNEY'S FARM IN BRAMPTON!!!!



The Great Steverino is looking forward to meeting the Easter Bunny on Saturday, April 13 & Sunday, April 14 and then again on Good Friday, April 19, Saturday, April 20 and on Easter Sunday, April 21, 2019. And they both hope to see you at Downey's Farm over these two Easterfest weekends.
Be sure to catch The Great Steverino's Easter themed family magic shows at 11:30am, 1:30pm, 3:30pm each day!
And while you're here, check out the baby animals, collect eggs in the Easter Egg Scramble, and enjoy many crafts, games, and of course 3 totally different Magic Shows for the whole family across the farm!
Check it all out at www.downeysfarm.com!