Corporate Magic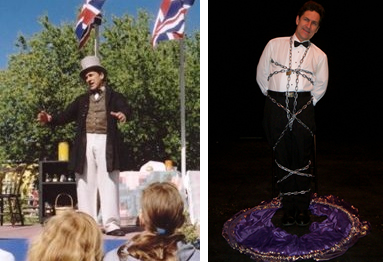 Steve is a highly interactive corporate magician and his stage shows provide lots of laughs with a wide variety of illusions tailored to the corporate audience. The high quality of magic caters to entertaining an adult crowd with a light hearted comic edge. Steve will bring his Comedy Magic to your event wherever you are in Ontario: from Oakville to Ottawa or from Toronto to Thunder Bay and anywhere in between.
Some of the effects Steve's corporate clients will see might include: shackle, rope and chain escapes; coin and bill transformations, cut and restore illusions, vanishing balls, amazing card tricks, impossible mind reading and predictions and many more baffling feats of prestidigitation.
45 min. shows or strolls by the hour 

"Brilliant Performance"
EVENTS:
What you can expect from your MAGICAL EXPERIENCE
Highly interactive 45 min. shows
Excellent illusions
Fun family friendly performance
Choice of magical character
Up to 3 different shows a day
Escape & mind reading illusions
Amazing magic illusions: stage or close–up sleight of hand
45 min. show + 15 min. pre-show strolling magic  
DOC CENTURY
"Old time medicine man-thrill and wizardry":  Doc Century's Magical Travelling Medicine Show has been entertaining crowds with colourful antics and magical mischief for almost 20 years. The show's historical theme makes it the perfect choice for festival and fair entertainment. "Cure what ails ya" with magic and laughter, when old time Medicine Man and Magician Doc Century invites "townsfolk" to test the power of his potions, lotions and tonics as he attempts to make them "believers" in his cure-all "golden medical discovery." Seen at fairs, festivals and events throughout Ontario – great for museums and historical villages!  

THE GREAT STEVERINO
"You thrilled and enthralled both adults and children alike" : The traditional top hat look of corporate magician The Great Steverino bridges the gap of young and old making this character the perfect choice for any party. His highly interactive stage shows provide lots of laughs with a wide variety of illusions tailored to the audience. The high quality of magic makes this show just as entertaining for adults as it is to children. Some of the effects you might see include: Comedy Chains and Shackles escapes; magic vanishing balls; the unbelievable cut and restore newspaper, the impossible card trick and many more!